Grabango Wins Fast Company's Next Big Things in Tech Award
Grabango's AI-powered technology is defining the future of shopping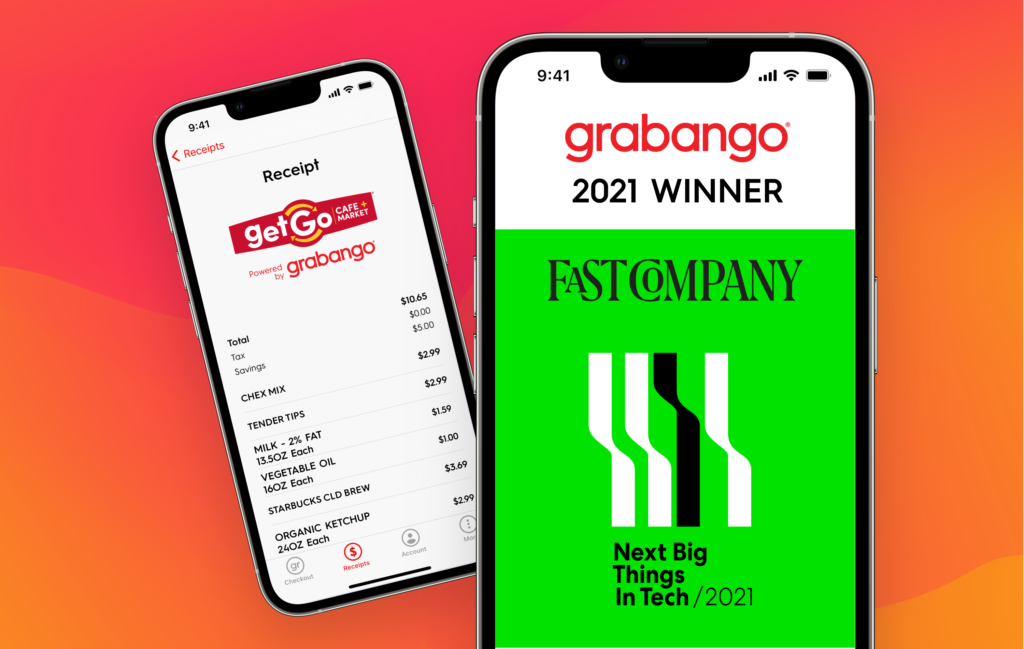 [BERKELEY, Calif. – November 19, 2021]: Grabango, the leading provider of checkout-free technology for existing grocery and convenience stores, today announced that it has been named a winner of Fast Company's inaugural Next Big Things in Tech award. The honor recognizes the broad impact that the company's breakthrough technology is having on the future of retail. Grabango's suite of advanced algorithms and state-of-the-art machine learning have redefined checkout and earned it this prestigious award.
"This award from Fast Company means a lot. They are attuned to our industry and have a storied history of spotting technology's biggest winners," said Will Glaser, Founder and CEO of Grabango. "While our checkout-free solution is powered by advanced computer vision, developed by our top scientists and engineers, the consumer experience of shopping in a Grabango-powered store is simple, easy, and fast. It's important to us that anyone be able to use Grabango to skip the lines and save time."
Winners have ranged from global giants to pre-IPO startups that are creating a positive impact for consumers, businesses, and society at large.
"Fast Company is thrilled to highlight cutting-edge technologies that are solving real-world problems in unexpected ways. From climate change and public health crises to machine learning and security, these technologies will certainly have a profound impact on the future, and we're honored to bring attention to them today," says Stephanie Mehta, Editor-In-Chief of Fast Company.
Grabango's team has authored over 40 unique U.S. patents and has dozens more filed internationally. The company's checkout-free technology delivers a true retrofit solution for retailers of all sizes, including small- and large-format retailers. To date, Grabango has signed six major retail partners, including a global top-10 grocer, two Fortune-500 companies, and a Fortune-25 multinational. Combined, the company's partners represent over 200 million square feet of retail space, and each of these partners, including Giant Eagle and Circle K, has $1 billion or more in annual revenue.
Since its founding in 2016, Grabango has been on a mission to improve daily life by eliminating lines and saving people time. The company delivers on this promise by bringing its checkout-free technology to existing stores where people already shop. Grabango is expanding rapidly and has already deployed more than 75,000 square feet of shopping floor. The seamless shopping experience it delivers is quickly becoming the global standard, especially for multi-store rollouts.
About Fast Company
Fast Company is the only media brand fully dedicated to the vital intersection of business, innovation, and design, engaging the most influential leaders, companies, and thinkers on the future of business. The editor-in-chief is Stephanie Mehta. Headquartered in New York City, Fast Company is published by Mansueto Ventures LLC, along with our sister publication, Inc., and can be found online at fastcompany.com.About Grabango
Grabango is the leading provider of checkout-free technology for existing, large-scale store chains. Grabango delivers a next-generation shopper experience and is the only enterprise-class, checkout-free solution deployed at multiple chains coast to coast. The Grabango platform is a fault-tolerant, edge computing network that accurately processes millions of simultaneous transactions. The system places no limits on who can enter the store, what can be sold there, or how the shelving is configured. For more information, visit www.grabango.com.