6 Questions About Checkout-Free Technology Answered by Grabango's CRO, Andrew Radlow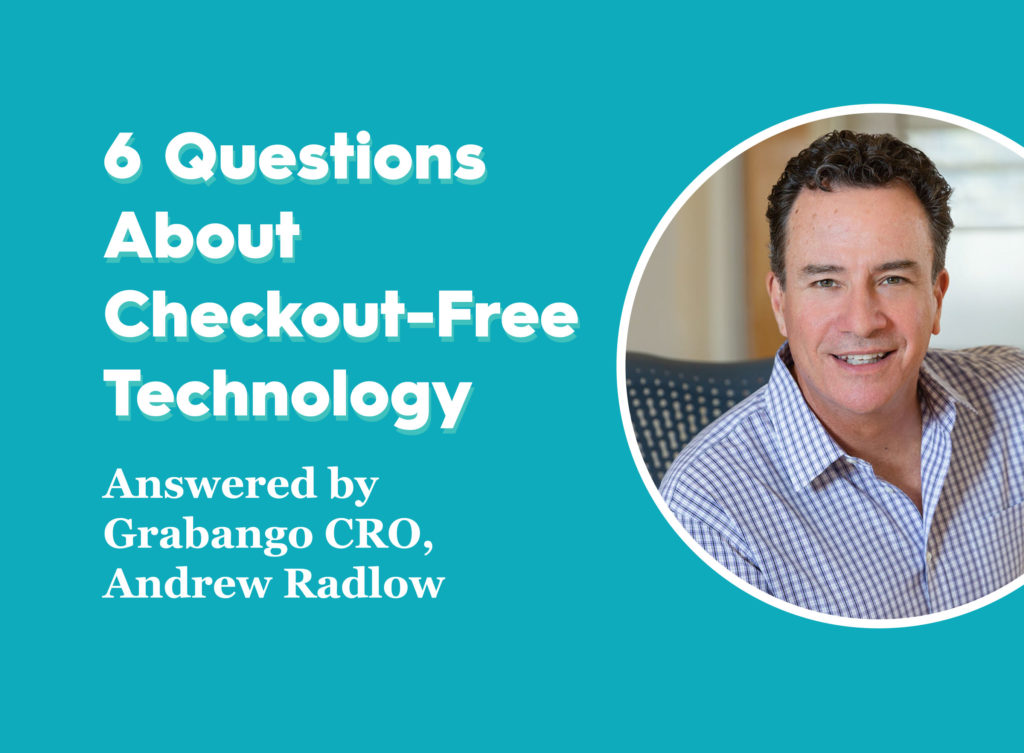 From QR codes to mobile wallets to RFID technology, the retail industry has seen an influx of innovative products over the last decade focused on improving the shopper experience and increasing profitability. We asked Grabango's Chief Revenue Officer, Andrew Radlow, to break down the latest and greatest in retail innovation: autonomous checkout.
---
1. How have you seen AI-powered autonomous checkout technology evolve over the past five years?
Since we started in 2016, we've found that retailers are primarily interested in two things: (1) an elevated shopping experience, allowing them to attract and retain high-value customers; and (2) driving profitability through the streamlining of operations. We're seeing a rise in costs across the supply chain. Simultaneously, there are more and more new entrants into the grocery and convenience store sectors. So, there's heightened competition in an already competitive, narrow-margin industry.
Automated checkout technology, such as Grabango, addresses both the need for a better shopping experience and the call for cost reduction in the retail space.
2. How has the COVID-19 pandemic affected the reception of new technology across retail?
We were in high demand before the pandemic, but we've seen an increase in interest throughout the crisis because our technology helps eliminate probably the most dangerous part of the store: the line. Additionally, the current version of our product is entirely contactless. We'll also be supporting cash payments in the future as part of our dedication to serving all clients and all the ways they want to pay. But the fact that we have a contactless product publicly available has been very attractive during these pandemic times.
3. What are the top benefits retailers gain when partnering with Grabango?
Grabango's technology represents the 21st-century shopping experience, and our data show that it's the preferred way to shop. Once shoppers try it, they love it and 80% of Grabango shops are repeat visits. This loyalty is built on a trust in Grabango that comes from seeing accurate receipts every time. Beyond trust, it's our speed and convenience that attract shoppers and retailers alike. In the average c-store, it takes roughly 90 seconds for a shopper to wait and complete a transaction. Grabango that to just a single second. So, with every shop, we're reducing time at checkout by 98%. This allows employees to improve the quality and safety of the shopping environment. We also essentially eliminate shrink, or inventory loss, because whether a shopper puts items in their basket, pocket, or backpack, they're still charged appropriately.
4. What are the top challenges retailers should consider when choosing this type of technology?
When deciding to partner with Grabango or any tech provider, retailers should expect a professional deployment. Since Grabango is a retrofit solution, retailers can count on a standardized implementation, completed in a few days, and without any interruption to store operations. We understand the dynamic store environment and have put years of work into a solution that's repeatable. We approach each client as a true partner with a two-way consultative relationship. Any challenge is a shared challenge that leads to quick, yet high-quality solutions. 
5. How do POS systems integrate with Grabango?
From a point-of-sale provider's perspective, Grabango operates like a comprehensive scan gun. When someone is ready to leave a store, we gather the SKUs in their possession and pass them on to the POS provider. So, we deliver SKU information to the POS in a more efficient manner. This increases the speed of the shopping experience and maintains innovations developed by existing POS providers. We're working directly with the top POS system providers in the industry, and those partnerships are expanding this year.
6. What should we expect from Grabango in 2021?
We're growing rapidly this year. You're going to see multiple tranches of store deployments and announcements of partnerships with more of the top global brands.
Are you a retailer looking to learn more about autonomous checkout? Schedule a meeting with our team here.